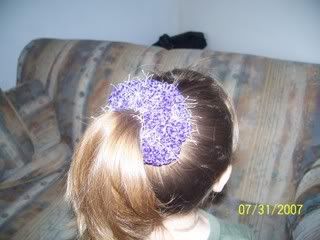 Materials Needed:
1 skein of novelty yarn (I used a worsted weight novelty yarn)
Size I (5.50 mm) hook
1 Thick "Ouchless" ponytail holder
Stitches used:
sl st = slip stitch
sc = single crochet
tr = treble crochet
This pattern uses American crochet terms.
Note: A worsted weight skein will yield several ponytail holders, but you may have to use most of or all of a skein of light weight eyelash yarn.
Round 1: Join yarn with sl st in ponytail holder. Ch 1. Work sc all around the ponytail holder (for the size I used, I came up with 46 sc. The best way to figure out how many sc to work is to count the number of sc it takes you to go around the ponytail holder with normal spacing, then scrunch the worked stitches together and double the number you came up with. Example: I had 23 sc worked normally, so I scrunched them together and worked another 23 sc in the remaining space.) Join with sl st to first sc.
Round 2: Ch 4, tr in same stitch. Work [2 tr] in each sc around. Join with sl st to top ch of starting ch 4, finish off. Weave in ends.
Congratulations, you are now a disco queen! These are great for using those wierd little scraps that aren't enough to really make anything. They also make awesome stocking stuffers for teenage girls. They look neat and are relatively inexpensive too. I made them for my Girls Only Missionettes class. We're having a treasure hunt as part of our lesson next week and this is the "treasure" they get to find. Enjoy!
If you have questions, or just want to send me a picture of something you've made using my patterns, you can
e-mail me at theinfamousyarnaholic@hotmail.com
contact me as
queenmamajen
on
Ravelry
.